DATE: September 27, 2013 4:27:18 PM PDT
WWU Professor Kimberly Lynn Publishes New Book On the Spanish Inquisition
Contact: Western Washington University Associate Professor of Liberal Studies Kimberly Lynn, (360) 650-4869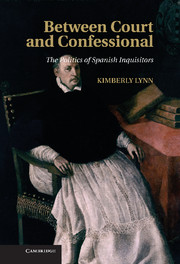 BELLINGHAM – Western Washington University Associate Professor of Liberal Studies Kimberly Lynn's new book, "Between Court and Confessional: The Politics of Spanish Inquisitors," has been published by Cambridge University Press.
Lynn's book examines the careers and writings of five 16th- and 17th-century inquisitors to determine how individual judges shaped the Spanish Inquisition, and so sheds new light on some of the most infamous historical figures.
In her book, Lynn investigates how the inquisitors interacted in different social, political and religious arenas. From these relationships, the study explores how social environments and ideological commitments conditioned the Inquisition's activities.
Lynn will present her new book as part of the Western Libraries Reading Series from 4-5:30 p.m. on Thursday, Oct. 3 in Western's Special Collections room on the 6th floor in Wilson Library. For more information on her book contact Kimberly Lynn at Kimberly.Lynn@wwu.edu.